Amanda, the children's librarian behind the terrific A Patchwork of Books blog.
1.  Tell us about your blog.  Why did you start it?  What has it added to your professional life?
My blog, A Patchwork of Books, focuses on reviews of children's books, from infant to teen age levels. I began the blog in order to spread the word on books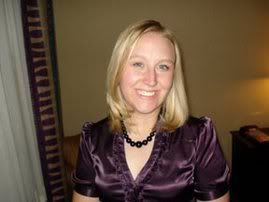 I love, with the hope that someone will find a gem in the midst of my reviews. My day job is as a Children's Librarian, resulting in thousands of books being placed in my hands each year, some that many people may never have heard of. By blogging, I not only get to speak out about those books, I also get to find new titles; ones I've never heard of!
2.  Has running the blog changed your perspective or taught you new things about children's lit?
Every time I read and review a book, I browse other blogger's reviews of the same titles, looking forother perspectives. I enjoy knowing what others thought of what I just read. Sometimes we agree, sometimeswe don't and that's what makes the entire blogging experience fun!
3. As a librarian, what kinds of books would you like to see more of?  What kind would you like to see fewer of?
This is certainly not an easy question. I'm not sure there is any specific type ofbook I would like to see either more or less of, but rather I would enjoy simply seeingmore people reading any book! I do not believe there are any "bad" books, maybe a lot that I personally do not enjoy, but not necessarily books that there need to be less of in ourliterature world.
4. We tell our readers that they must write books for today's children, and not simply write the kinds of books they enjoyed as a child.  What's the best way for a writer to get up to speed about today's young readers and their likes & dislikes?
Honestly, go to a library or a bookstore and read all the "most popular" titles. The ones on display or the ones deemed bestsellers. Browse kid lit blogs and see what the most talked about titles are in the blogging world. Do simple, reading research.
5.  What are your favorite books of 2008 so far?
I loved Peg Leg Peke by Brie Spangler and Bats at the Library by Brian Lies, both picture books. The Hunger Games by Suzanne Collins was absolutely fantastic, a young adult book, and I also very much enjoyed Lizard Love by Wendy Townsend, a middle grade novel.
6.  If you could tell aspiring children's writers one thing, what would it be?
Don't preach! Having positive messages in books is a great way to help encourage children to develop good character, but when a message is overly preachy and incredibly obvious, that's a definite turn-off. Blend the message in subtly to your plot and you'll be successful.
Thanks Amanda!  be sure to get over to A Patchwork of Books for lots more great insight into the world of children's books.